What can I cook on
my Palazzetti barbecue?
Thanks to the various cooking methods available when you choose a Palazzetti barbecue you can try out all your culinary skills. No matter whether you use a grill, stone, rotisserie or oven, your grilled food will have a different taste every day.
1/6
Grilling
Grilling is the essence of barbecuing because it's perfect for any type of food: meat, fish, fruit and vegetables! In actual fact, this cooking method is a different way of roasting food by using the heat diffused through the air by the hot coals. It does require your attention but, if done properly, it offers some undeniable advantages: on the one hand, it doesn't need much added fat and it eliminates any excess by melting it (i.e. by drawing it through the food, which adds more aroma and flavour to it); on the other hand it preserves the organoleptic and nutritional properties of the food being cooked.
What type of wood should you choose to make hot coals and General rules to cook on grilling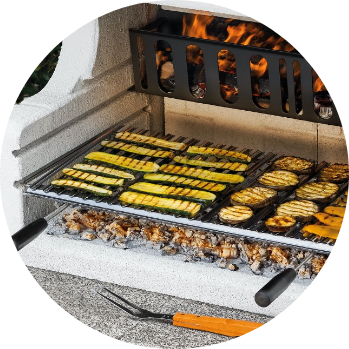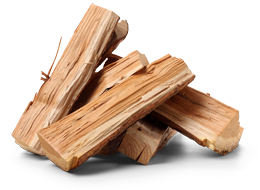 What type of wood should you choose
to make your hot coals?
The best hot coals are made from hard woods such as oak, beech and olive or fruit trees (pears, chestnuts, cherries); the most important thing is to avoid the wood from resinous plants (conifers).
A gourmet lover would choose cherry or chestnut wood for red meats, olive for fish and lamb and pear for veal. He would avoid green wood or reclaimed wood to preserve all the aromatic potential of the grilling method.
General rules
for grilling
The grill must be greased and placed on the hot coals a few minutes before you start cooking to warm it up properly and prevent food from sticking to it. Stainless steel grills with a semi-circular cross-section and a drip pan to collect the juices are preferable. Lastly, the grill should be adjustable in height to better control the cooking process. All our barbecues are provided with channels at different heights to adjust the position of the grill.
2/6
Cooking on a lava stone slab
Using a lava stone slab is one of the oldest and most wholesome cooking techniques. This material boasts very high heat conductivity that makes it possible to cook on an open flame: the result is a completely natural cooking method that doesn't require condiments or additional fats and is suitable for any food, from meat, fish and vegetables to cheese and even eggs. Lava stone heats up quickly on an open flame without having to wait for any hot coals to form. Moreover, since the cooking fumes do not come into contact with the food, it's even suitable for distracted or exceptionally busy cooks!
General rules to cook on a lava stone slab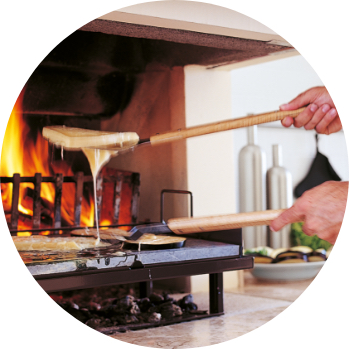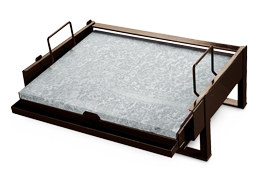 General rules to cook on a lava stone slab
The first time you use it you must grease the surface with a large quantity of cooking oil and leave it to rest for 24 hours. The next day simply place the lava stone slab on the fire, leave it to heat up and then clean it thoroughly with some wet kitchen paper. Lava stone can be cleaned with a sharp, broad-bladed knife or a scraper while it is still hot: this will make it easier to wash it after use.
3/6
Rotisserie roasting
If you love tasty but demanding cooking methods – although they require lots of time and patience – then this is the right one for you. Rotisserie roasting requires experience: you need to know what type of meat you are cooking so that you can put it in the right position, you need to know how to keep the fire going at a constant rate, what aromas to choose and how to adjust the flame to adapt it to the cooking process. As well as traditional food, the size of the rotisserie lets you also cook large fish, game and shellfish.
General rules for rotisserie roasting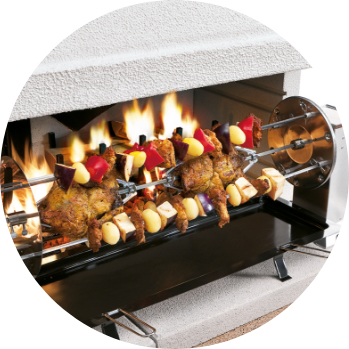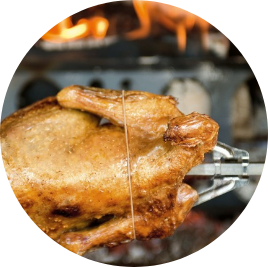 General rules for
rotisserie roasting
for as much as regards the wood to use (never use coal or charcoal), follow the instructions provided for grilling;
this technique uses an open flame but the resulting hot coals can also be used as part of its source of heat. It goes without saying that the fire must be constantly fed;
you can roast wild fowl or game (whole or cut into pieces), farmyard animals including pork and beef, fish and shellfish and, for a mixed spit, even fruit and vegetables. Cooking times will of course vary a great deal, ranging from half an hour to many hours;
before trying out more complicated meats we suggest you roast a few chickens to start with, just to get the gist of things. This way it will be easier to determine the right distance from the fire, the perfect cooking time and the type of fire to keep going;
the food must be secured to the rotisserie using pins and kitchen twine to prevent it from rolling off during the cooking process;
when preparing the spit, pierce the various pieces of food through their centre; for mixed spits we suggest you place the food that cooks the quickest at the ends so that they can be the first to be removed;
the rotisserie must be the right size for the weights it must carry. For your first attempts the least expensive, battery-run rotisseries are fine: we do suggest you purchase a professional rotisserie later on though, one with the technical data of the motor written on its data plate. At this stage it's not a good idea to choose a cheap product that might abandon you just a few minutes before a juicy dinner is about to be ready to serve to your guests! Moreover, always remember to choose a rotisserie whose distance from the fire can be adjusted.
when preparing your rotisserie with various pieces of meat we suggest you alternate it with small piece of lard which should rest against, but not be squashed between, the meat. The purpose of the lard is to tenderise the meat and add flavour to it but it should not overwhelm the meat and only experience can help you here. If you are roasting small birds such as quails, we suggest you wrap them all over with lard or bacon to keep them tender;
good spit-roasting requires a moderate quantity of aromatic herbs: the lard can be alternated with sage leaves but only after having removed the stalk because its flavour is excessively tannic; on the other hand, rosemary should only be used for some meats (preferably lamb and pork);
cooking must always start at a gentle heat i.e. at a certain distance from the flame (tradition says that the fats should not start dripping until an hour has passed). In this phase grease the meat to favour the creation of a crispy glaze. Salt can be added when the fats start dripping; prefer fine salt and, if you want to use the cooking juices, move the drip pan away while you add it otherwise they will become too salty. Now move the rotisserie closer to the fire but not closer than 40 cm.
Naturally, cooking times will vary depending on the type of meat and its size;
using hot coals directly under the rotisserie can favour a more evenly-cooked result but this is, once again, an additional technique that can only be learnt by experience;
at the end of the cooking process the meat must be left to rest for at least five minutes to give the juices inside it time to settle, but then it must be eaten immediately.
4/6
Argentinian Asado grilling
This technique, also called "reflected heat" grilling is similar to rotisserie roasting but the food is arrangement vertically, next to the fire, and fixed at a greater distance. This way the fats that drip from the food can in no way create dangerous fumes. It is obviously necessary to rotate the support by 180° now and again so that the meat can be cooked evenly on both sides. Asado, which originates from the Argentinian Pampas, is recommended for large pieces of meat: during the long cooking hours the fats drip off creating tasty yet light results. This long cooking process offers an additional advantage: this technique is suitable for non-experts because they are very unlikely to burn their food!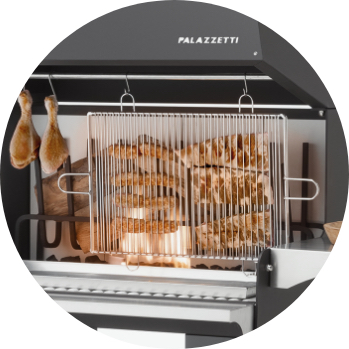 5/6
Oven roasting and baking
Roasting or baking in a wood-burning oven gives food a richer and unmistakable flavour.
It requires lots of patience because it takes at least two hours for the oven to reach the right temperature: nevertheless, the results make it worthwhile.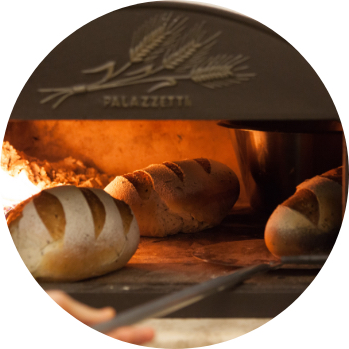 Two types of ovens are available: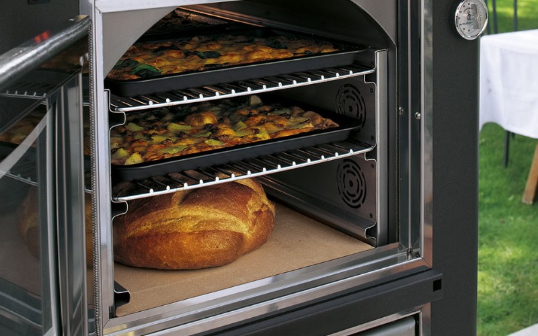 in stainless steel, installed above a grill or a combustion chamber. This oven heats up by itself thanks to the combustion fumes so it doesn't need to be "turned on". This type of oven reaches the desired temperature more quickly and lets you more accurately control its temperature. It's definitely the most suitable product for non-experts and for those looking for practicality.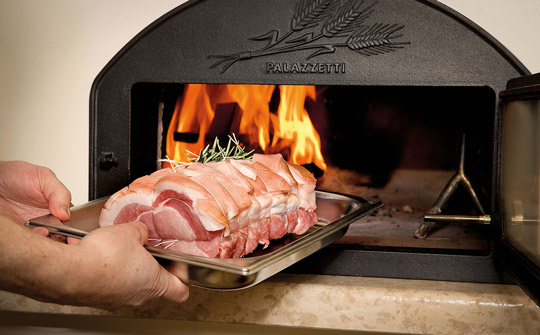 the traditional wood-burning, refractory oven that has a lit fire inside it and preserves its temperature for a long time, even after the fire has gone out. This product definitely requires more experience and patience but the food will absorb the unmistakable aroma of wood.
6/6
Foil-wrapped baking
This cooking method consists in wrapping the food in aluminium foil and then cooking it in the ash while it is still hot. The foil wrap almost seals the food, intensifying its taste.
This cooking technique is mainly used for meat, fish and vegetable and gives wholesome, light results because it requires very little additional fats. You can also foil wrap small portions of cooked pasta and rise to increase and intensify the flavour of sauces and aromas for instance.